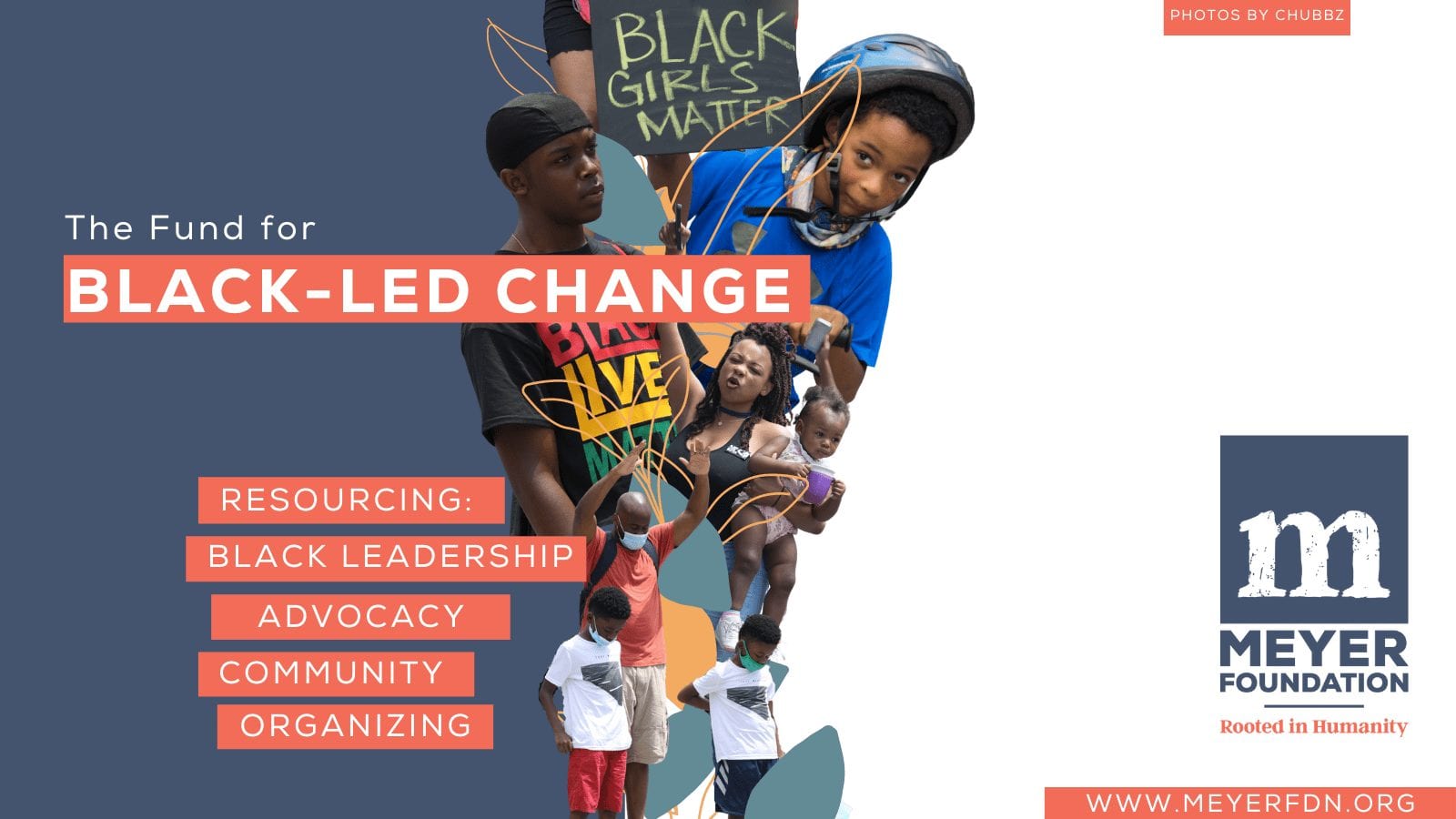 (This story was also published on Medium)
Five years ago, based on conversations with our partners and community, the Meyer Foundation made the decision to center racial equity in our mission. Part of our journey has included realizing our role in achieving our vision of a just, connected, and inclusive Greater Washington community in which systemic racism and its consequences no longer exist. If we are to achieve this vision as a region, Meyer and funders like us, must commit ourselves to resourcing Black-led movements as they organize, transform power, and demand, reimagine and recreate our systems.
Simply put, to achieve justice we must distribute our resources justly; centering the leadership and experiences of Black people. Deep commitments to Black-led movements are long overdue. As we've witnessed locally and nationally amid an election cycle, pandemic, and uprisings for racial justice, there is real, deep power in Black-led organizing. Black organizers are assuring that the people are heard, exposing the weaknesses in our social contract, advancing solutions, and demanding better for all. Yet philanthropic institutions, including Meyer, have historically and continually advantaged white-led organizations — by the organizations we chose to fund, the amounts and types of support we chose to give, or by the way we defined "effective" organizations and leaders.
Today, we are announcing the Fund for Black-led Change, a $20 million commitment of core support to Black-led organizations in the Greater Washington region that are building power, advancing permanently organized communities, and transforming systems toward liberty, justice, and the pursuit of happiness for all.
If Black organizers have been able to shift the trajectory of communities and this country while their efforts and organizations have historically been divested and under-resourced, we know that when we do the right thing and put resources into the hands of the people most directly affected by inequity and injustice, the possibilities abound. Though Meyer has made significant strides in supporting racial justice through resourcing Black, Latinx, and other people of the global majority, it is not enough. So today, we are announcing the Fund for Black-led Change, a $20 million commitment of core support to Black-led organizations in the Greater Washington region that are building power, advancing permanently organized communities, and transforming systems toward liberty, justice, and the pursuit of happiness for all.
Over the next five years, the Meyer Foundation will distribute $15 million in multi-year, general operating grants to Black-led power-building, organizing, and advocacy organizations, beginning with a cohort of current Meyer Foundation partners. The remaining $5 million in the Fund for Black-led Change will be reserved to support infrastructure and capacity building and other programming at the direction of the Black-led organizations' stated needs, for example:
Convening and conferencing
Leadership development, operations, communications and other core functions, healing and wellness
Constituent organizing, base-building, political education, and advocacy training
Our intention is for the Fund for Black-led Change to partner with organizations that are Black-led and Black-centered, meaning that with the Fund's resources we will support organizations in which:
The executive director, highest-paid staff, or the equivalent, identify as a Black person
At least 66% of staff identify as Black
At least 51% of the board, steering committee, or other leadership body and volunteers in leadership positions identify as Black
The work is grounded in the belief that all Black lives matter and there is a holistic, intersectional approach that values the various, multiple identities and communities where Black people exist and recognizes their layered experiences of injustice
The primary focus of the work is to secure changes at the personal, community, policy and/or institutional level for the benefit of Black people, and all people
There is commitment to strategically and intentionally build the power of Black communities
The strategies and activities prioritize culturally relevant practices
As we've witnessed time and time again, everyone stands to benefit when resources are put into Black people and communities, but most importantly, Black-led movements and communities deserve the resources of which they have been continually robbed. By resourcing Black communities and leadership, we can support the development of permanently organized communities in which systemic solutions can create the conditions for everyone to thrive.
Below, the Meyer Foundation's Vice President for Strategy and Equity Aisha Alexander-Young and Vice President for Community Partnerships and Learning Karen FitzGerald share why the Fund for Black-led Change is a critical component of Meyer's strategy and grantmaking:
---
Aisha Alexander-Young: Two and a half years ago, I entered a world in which I never imagined I'd be — philanthropy. For years, working in nonprofits and as a community organizer, I'd developed a knack for securing resources, but never saw myself as the one in position of distributing resources through a sector that I'm not sure should even exist in a just world.
For the past seven years, alongside my fulltime jobs, I have served as development director for Dream Defenders, a Black-led movement founded in the wake of the murder of Trayvon Martin, focused on building power and a new vision of freedom and safety in Black, Latinx, immigrant, and working-class communities. As I reached levels of unsustainable exhaustion as a frontline organizer and entered a new journey as a parent, fundraising for Black movements is where I found my role and most meaningful experiences working for justice for myself, my family, and my community.
As I worked for and with large, well-funded, white-led, direct service organizations during the day and organized funding for Black-led movements at night, I grew increasingly frustrated with the obvious racialized disparities in how philanthropic support showed up. As the white-led organizations easily raised millions of dollars, often based on relationships and vast resources to support consultants, development, and communications staff, (while barely scratching the surface on the issues in communities experiencing poverty, and often while proliferating racist practices and propping up racist leaders within the organization), Black-led movements building power and actually changing the material conditions for Black communities and people in poverty were practically made to jump through hoops of fire for far less support.
I reached my breaking point in 2014, a moment not too different than the one we find ourselves in now. Michael Brown was murdered at the hands of police officer Derrick Wilson and Ferguson rose up, inspiring many and reinvigorating a Black youth-led movement that grew out of dedication to Trayvon Martin. It was also a mid-term election year. Philanthropy threw itself at Dream Defenders and other Black-led movement organizations. We were able to build infrastructure and organize more powerfully than we ever previously imagined. Then in 2015, the philanthropic institutions that once loved us were no longer there. The infrastructure we built, we could no longer sustain. Because this is not just our work, but also our lives, we kept going, kept building, and with far fewer resources. In 2016, philanthropy came back, expecting Black organizers to save us all again, and we had to start over instead of building upon what we had established years prior. I lay what happened in 2016 and the rising white supremacy, xenophobia, and the devastating racialized health and economic impacts of the COVID-19 pandemic, squarely at the feet of philanthropy that failed to fully fund and support Black organizers as the KEY to the visions we purport to desire. I came out of that year with a new purpose — to shift the relationship between philanthropy and movements.
The Fund for Black-led Change is the answer to the question I get asked so often: "Why are you in the philanthropic sector?" I make no apologies for the fact that I am in philanthropy to move resources to Black organizers and movement builders because I wholeheartedly believe in the power of Black people to realize a world where everyone thrives simply based on virtue of their humanity. As the current moment illustrates and as history has exhibited, organized communities are stronger communities. Philanthropy must answer the call and support the building of permanently organized communities on a solid foundation of justice. Dr. Cornel West once said, "Justice is what love looks like in public." — the Fund for Black-led Change is my love song to Black organizers in the Greater Washington region. I see you. I thank you. You deserve. I love you.
---
Karen FitzGerald: As a long-time member of the Meyer Foundation staff, I am glad to see the Fund for Black-led Change continuing important work the Foundation has consistently done for nearly 76 years: making long-term commitments to organizations, investing deeply in building their capacity, recognizing and supporting their leaders, strengthening the ecosystems in which they work, and responding to needs in the community.
But there is one way in which the Fund is a distinct departure for Meyer: its focus on Black-led and Black-centered organizations.
Looking over the years at the organizations Meyer traditionally funded, the groups we elevated in our communications, and the leaders we celebrated — most were white-led. As someone who was a part of many of those conversations, I know we didn't consciously set out to fund white-led organizations. But we embedded in the lenses we used to guide our decisions unstated and unconscious bias around what a "well-run, effective" organization is and what a "visionary and talented leader" looks like. These lenses gave a big leg up to nonprofits led by white executive directors, who are advantaged by the generally easier access they have to resources and networks that come in handy when building and growing organizations — and which themselves are the result of decades of race-based exclusion and discrimination and made it much harder for many Black-led organizations to land on our radar screen, never mind get funded.
Through our grantmaking, as well as through our influence with other funders and donors in the region, we helped to perpetuate a philanthropic cycle of under- and dis-investment in Black-led organizations in our region. I'll have more to say in 2021 about the white advantage at Meyer.
In launching the Fund for Black-led Change, we — and I, as a long-time member of the Meyer Foundation staff — acknowledge the harm we — and I — created through seven decades of practices and commit ourselves to repairing that damage by investing significantly in resourcing the leadership and power of Black communities to create a more racially just region.